Leipurin Trainee program, launched in Finland in January 2021, has been a great success and we have found active and enthusiastic new employees.
Leipurin Trainee Program is for university and college students and young professionals who are at least halfway through their studies. In the program young talents face interesting and delicious challenges and become acquainted with Leipurin as an international company. Leipurin Trainee Program is also an excellent stepping-stone to a career in the food industry and at Leipurin.
Through Leipurin Trainee program in 2021 we've had the pleasure to find excellent young talent, and the trainees have found the following job roles in our organization:
Ella Oksala has been in our Management trainee position. Ella has now been appointed as a Specialist, CSR & Category management.
Heidi Tuominen has worked for us in the Digital Marketing trainee position. Heidi has now been appointed as a Specialist, Digital Marketing.
Rinor Vuciterna has been in trainee position in machinery sales. Rinor has now started his new job role responsible for selling machinery and equipment to our customers in Finland.
Sofia Ratinen has been working as trainee at Leipurin Baking Center. Sofia will continue her work at Baking Center, and start developing the international baking center network, while she finalizes her Confectionery and Bakery Degrees.
What does Leipurin Trainee program offer?
Interesting learning path in an international food company
Low hierarchy and good visibility to the business
Hands on learning
Professional and supportive colleagues
Crisp and concrete job responsibilities
A trainee contract
How does the trainee program continue?
Thanks to successful and positive experiences in 2021 we have decided to continue Leipurin Trainee Program. After the Finnish pilot year, the program is planned to expand to other Leipurin countries.
Stay tuned for news in Q4 2021.
For more information:
https://www.leipurin.com/fi/trainee-program
Peggy Hansson,
Director, People & Change at Leipurin Plc.
peggy.hansson@leipurin.com
+358 40 661 857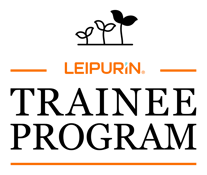 ---
About Leipurin
Leipurin was founded by bakeries, which is why we have had a clear understanding of our customers' business ever since we started out – over 100 years ago. Today, we offer relevant expertise, ingredients, production machinery and services for bakery and confectionery industry, food industry and food service market.