Sujuva kumppani toimialalle
Industry solutions
Food industry
Your versatile partner
This is how we help
Local know-how combined with leading international suppliers. Our winning formula brings you high-quality ingredients, flavors of the latest trends, the best selection of equipment and innovative product development.
Agile product development with Leipurin R&D Baking Center
Product development to meet the latest trends and consumer expectations
Our dynamic product development team helps you to develop products to respond to ever changing consumer expectations. At our R&D Baking Center, we are constantly developing new product ideas and new recipes to boost the sales of our clients.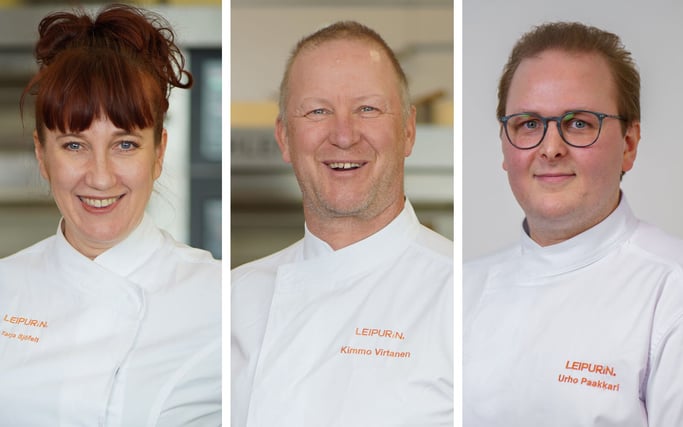 Join our inspiring events and product development days
Get the latest trends, valuable reports and consumer insights from around the world. Information about new products, tips and ideas how to use ingredients, recipes and products fresh form the oven. We organize regular events and product development days together with our international suppliers.
Tested and proven product ideas and recipes

Recipes that have been carefully developed and tested many times in our test kitchen. Our R&D team is constantly testing, screening and developing new products for today's consumer trends.
For sports and nutritional supplements
Whey and milk proteins
Berry and fruit pieces & powders
Sugars and their substitutes
Aromas, extracts and colors
Fats and oils
Cereal products, gluten-free
Vegetable proteins, seeds
Starches, fibers
Fillers, pectins
Guar gum, inulin
For ready meals
Rice and grain products
Vegetables
Dextrose
Breading products
Vegetable proteins, malts, fibers
Flavorings, thickeners, spice mixes
For ice creams
Milk powders
Berries, fruit pieces & powders
Chocolates, cocoa powder, maltodextrins
Starch syrup, mono- and diglycerides
Sugars and their substitutes
Flavor preparations to be mixed with ice cream
Prepit, carob powder
Lecithin, inulin, flavors, fats, colors
For dairy products
Nutritional yeast
Starches
Plant proteins
Pectin and other thickeners
Spice mixtures, aromas, extracts and colors
For meat products
Spice mixes
Lecithin
Inulin as a substitute for phosphate
Aromas and extracts
Fats and oils
Cereal products, gluten-free
Vegetable proteins, starches
Fibers, seeds
Salt, gelatin
For jams
Frozen berries and fruits
Pectin and other thickeners
Sugars
Starches, dextrose
Aromas, extracts and colors
Inulin
For sweets
Gelatins, colors
Aromas and extracts
Pectins
Chocolates
Sugars and syrups
Agar-agar
Lecithins
Starches
For animal food
Fibers
Pectin
Lecithin
Inulin
For the brewing and beverage industry
Our team of experts
Our dedicated team of experts serves our customers in each of our markets
(Finland, Sweden, Estonia, Latvia, Lithuania, Ukraine)
Interested in our Food Industry offering? Contact our local sales
Our sustainability journey continues
We are proud to present our first sustainability report
Five core areas: emissions, material efficiency, responsible supply chain, care for people, employees, corporate governance
Our goal is a responsible supplier network, so customers you will get quality without worry