Sujuva kumppani toimialalle
Industry solutions
For bakeries
Helping bakeries for over 100 years
This is how we help
A high-quality selection of ingredients and all the necessary equipment. A great number of recipes, product ideas and all our professional help to develop your bakery business.
Sami Nenonen, Leipurin Suomen maajohtaja.
Legendary Halme Bakery
The legendary bakery trusts Leipurin for new innovations and product development. Halme bakery works intensively with our R&D Baking Center.
Agile product development with Leipurin R&D Baking Center
Product development to meet the latest trends and consumer expectations
Our dynamic product development team helps you to develop products to respond to ever changing consumer expectations. At our R&D Baking Center, we are constantly developing new product ideas and new recipes to boost the sales of our clients.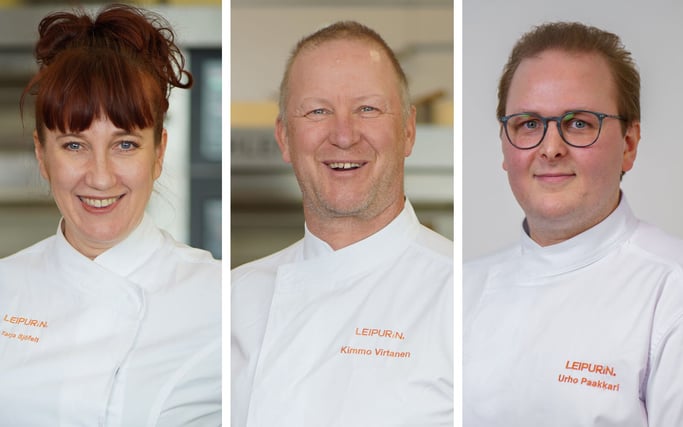 Join our inspiring events and product development days
Get the latest trends, valuable reports and consumer insights from around the world. Information about new products, tips and ideas how to use ingredients, recipes and products fresh form the oven. We organize regular events and product development days together with our international suppliers.
Tested and proven product ideas and recipes

Our R&D team is constantly testing, screening and developing new products for today's consumer trends. Recipes that have been carefully developed and tested many times in our test kitchen.
Baking equipment for professionals
Discover our carefully selected brands and equipment for professionals


Dough handling machines
Mixers
Ovens
Shredders, rollers
Pastry and gelato equipment
Our sustainability journey continues
We are proud to present our first sustainability report
Five core areas: emissions, material efficiency, responsible supply chain, care for people, employees, corporate governance
Our goal is a responsible supplier network, so customers you will get quality without worry


Interested? Contact Tommi
Our dedicated team of experts serves our customers in each of our markets
(Finland, Sweden, Estonia, Latvia, Lithuania, Ukraine)