We warmly welcome Miska Kuusela, the new CEO of Leipurin Group, to the new team and position. During Miska's orientation week, we were able to take a peek into his thoughts about the new year 2023. Leipurin customers and partners play a key role as Leipurin continues to develop its product range, operations and services.
---
What does our new CEO say about the following topics?
– I am a long-term food industry leader and enthusiast, 18 years, in 5 companies. I like this industry very much because food touches us all and the industry offers an interesting field to do hard work and delicious business.

– My previous job at Finnish food company Myllyn Paras ended with the sale of the company. Around the same time, I received a really nice call about Leipurin. There were other options on the table, but nothing as interesting. It's really hard for me to come up with anything more interesting and exciting for my next assignment than Leipurin. Things coming together in this way feels like an incredibly lucky coincidence.

– I live in Espoo, my family consists of my wife, three children, a dog and an almost hundred-year-old turtle, which I got for my 4th birthday.

– I enjoy mountain biking, cross-fit fitness and playing the saxophone mainly for my own pleasure. I also like hunting and enjoying time in the forest.
What kind of mission have you taken on as the CEO of Leipurin?
– A new phase is about to begin in the Leipurin Group, where we will leave the eastern market (Russia, Belarus, Kazakhstan) and develop operations in Finland, the Baltic countries and, with the latest Kobia acquisition, in Sweden.

– One of my tasks is to ensure that we successfully integrate and promote the cooperation benefits of these countries to customers. We will also continue operations in Ukraine as long as the crisis situation there settles down.

– Another task is to ensure that we continue to develop our role as a wholesaler serving customers and partners. This includes many services such as a versatile selection of raw materials, product development support, customer service and seamless logistics.

– We want to serve food and bakery companies in a versatile way and be very relevant to them now and in the future – to help where needed.
What kind of market insights and greetings would you like to share with Leipurin customers and partners in 2023?
– The entire food industry has lived through very extraordinary and strange times for the past three years. This has resulted from various reasons, e.g. due to the pandemic, the start of the war and its consequences for the economy. The year 2023 will not be easy, but based on my experience, I strongly believe that with the help of our partners we will find many successes, excellent products and relevant services for our customers.

– HoReCa / food service companies are a good example, where businesses have experienced terrible circumstances, and on the other hand many of these companies have managed to at least partially recover and move forward.

– This year we will learn a lot about the market, where inflation and interest rates are increasing, and how it affects companies and consumers. It should be clear that such an operating environment requires different solutions than in stable times.

– The task of Leipurin is to help customers solve various problems together and promote the well-being of the industry. I will personally put focus to ensure that Leipurin is strongly on the map and will be even more relevant to our customers in all the countries where we operate.

– I wish you lots of happiness and success in 2023.
---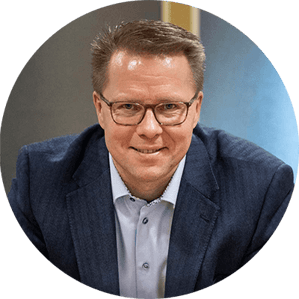 Miska Kuusela
Group CEO, Leipurin Group
miska.kuusela@leipurin.com
+358 40 820 1943